New aluminium workboats
Hasekamp Trading Holland has his own production line of new aluminium workboats and landing craft, fully designed and fabricated in the Netherlands with a CE Marking. These aluminium workboats are designed to be very reliable, stabile and above all: they last for years and keep their value. All our offered boats are in stock, so without any delays you can have your boat within one week time.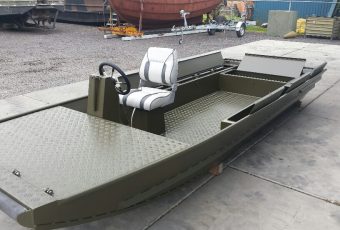 The ZL450 Hunter / fisher is designed for the government and is being used for pest controls, water research and fish quality checks , this boat can be trailered 5 to 10 times per day in their jobs and is very heavy build for the use in shallow waters.
More information